Not to be confused with Gigantosaurus
Giganotosaurus
is a dinosaur that lived in the Mid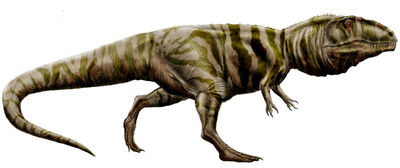 Cretaceous Period about 104-97 million years ago. It is one of the biggest carnivores, bigger than
Tyrannosaurus
but smaller than
Spinosaurus
. It is 13 meters long and 3.7 feet tall at the hips. It weighed 8 tons. Giganotosaurus was first found by Ruben Carolini in 1994. Giganotosaurus lived in South America. The name Giganotosaurus means "Giant Southern Lizard". He had a skull 1.6-1.76 meters long, perhaps the longest among the Theropods. 
Ad blocker interference detected!
Wikia is a free-to-use site that makes money from advertising. We have a modified experience for viewers using ad blockers

Wikia is not accessible if you've made further modifications. Remove the custom ad blocker rule(s) and the page will load as expected.